Announcement
Fall Ball Snack Bar- More Dates/Times Added!
More editing options
Thank you for helping us with our snack bar. It is an important service to our families as well as a fundraiser to help keep our fees down. Each family should receive a snack bar welcome letter from their manager or team mom with more detailed information (Click for Snack Bar Parent letter).
We have a new process this season to help with scheduling. Instead of being assigned a shift, you pick your own shift at a time that is convenient to your schedule. Click on the following button to sign up for a shift.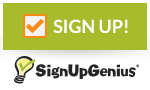 For any Questions, contact
Erin Truchin, TGSL Snack Bar Coordinator
truchin@me.com