Announcement
2018 Fall Ball Evaluations - Link to Sign Up
More editing options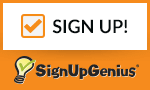 1) Evaluations are MANDATORY for all players.  Click on the link above to sign up. All evaluations will be held at Sam Levy School (address below).  
2) Please arrive 15 minutes prior to your scheduled time to sign in.  Girls should be in proper practice attire with gloves, cleats, bats, etc.  
3) Registration fees must be paid prior to evaluations.  If you have not paid, please bring a check for the registration fees ($135).  If you would prefer to pay online, send a request to tgslwebmaster@gmail.com and an online invoice will be sent to you.
Sam Levy Adult School
3420 229th Pl.
Torrance, CA 90505
Any questions, email tgslwebmaster@gmail.com. See you at the fields!